Exhibition of the flags representing the Contrade in the Piazza Municipale at Christmas time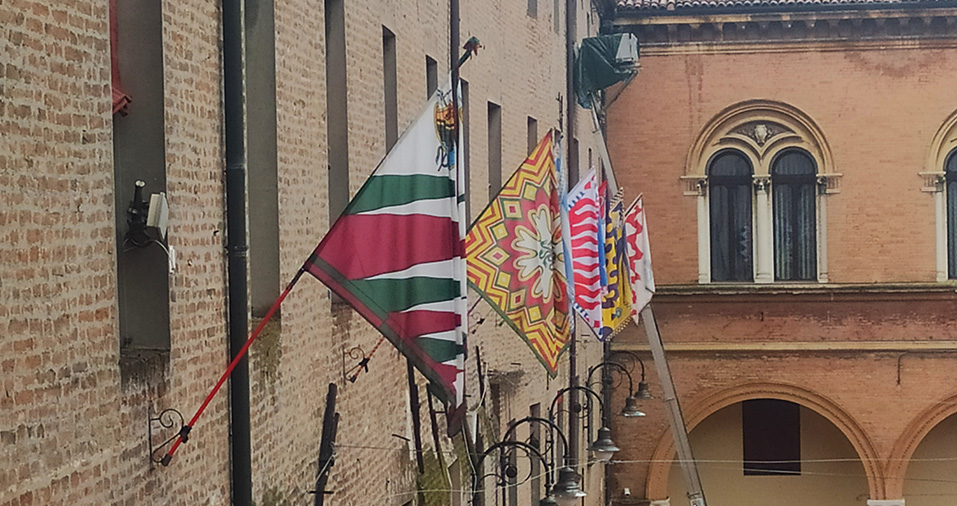 Esposizione, in Piazza Municipale, delle Bandiere delle Contrade del Palio di Ferrara per il periodo natalizio.
Grazie a Sergio Felicioli e al Borgo San Giacomo, è stato possibile esporre le bandiere delle contrade alle finestre del Palazzo Ducale, in ricordo di Fabio Felicioli, contradaiolo del borgo ed economo, negli anni '90 dell'Ente Palio della città di Ferrara.
Otto sbandieratori delle contrade hanno provveduto ad esporre i drappi.
Il presidente dell'Ente Palio della città di Ferrara, Nicola Borsetti ha dichiarato:
Il Cuore dell'Ente Palio della città di Ferrara batte sempre più forte!
In prossimità del Natale, alcuni sbandieratori in rappresentanza di tutte le Contrade hanno collocato le badiere in Piazza Municipale, valorizzando così il forte legame fra la città estense e il "mondo Palio" soprattutto in questo difficile momento.
Da parte mia e dell'intero Comitato Esecutivo un grazie di cuore alle contradaiole e ai contradaioli, coordinati da Gabriele Mantovani e Gigi Braghiroli, che nonostante il meteo avverso sono stati protagonisti di "un bellissimo gesto". Un ringraziamento "particolare" va alla famiglia Felicioli per la consueta collaborazione e agli Assessori Nicola Lodi e Matteo Fornasini in rappresentanza dell'Amministrazione Comunale sempre molto sensibile e vicina.
al seguente link intervista al fratello di Fabio, Sergio Felicioli, e Gigi Braghiroli in rappresentanza del Borgo San Giacomo