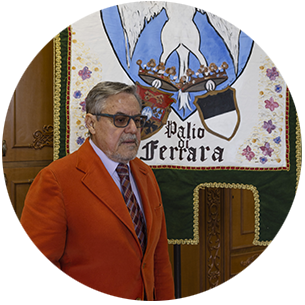 Giambaldo Perugini
Massaro
Unlike Borghi and Rioni, the Corte Ducale (Ducal Court) is not a territorial entity, neither is directly involved in the flag competion or in the four horse races in Piazza Ariostea. Even so, it is its presence that legitimates every activity connected to the Palio, as the members of the Estensi family were those who promoted this event in the second half of the 13 th century.
The Corte Ducale represents the huge team composed by family members, nobility, knights and soldiers who escorted the marquess Borso d'Este in 1471 during his journey to Rome. There, on the Easter Day he received the title of first duke of Ferrara from the Pope Paolo II, together with the great honour called Golden Rose.
His stay lasted more or less two weeks, cheered by banquets, shows and solemn tributes. Borso came triumphantly back in town the 18 th May, surrounded by his magnificent court, which was no more the one of a marquess but the one of a duke. The jubilant city welcomed his sovereign back and, in its honour, the horse races of an extraordinary Palio in the usual circuit of Via Grande were organised: it was a singular event which is nowadays recalled every last Sunday of May with the four competitions of Piazza Ariostea.
The gonfalon of the Corte Ducale is dominated by the white eagle on a light blue field. It holds in the right claw the white and black ducal shield while in the left one it holds the ducal blazon, in which the two-headed eagle on a gold field and the French fleur-de-lis on light blue field are represented. In the upper part there are two keys that represent the Pope.
The Corte Ducale participates at every event in the month of the Palio and collaborates with the eight Contrade to the shows both in Italy and abroad.